While staying at one of the FamFun Cabins, you can enjoy many things to do – at Bissell's Hideaway Resort and surrounding areas of the resort. We'll point you in any direction you choose to ensure your stay is all you want it to be and more!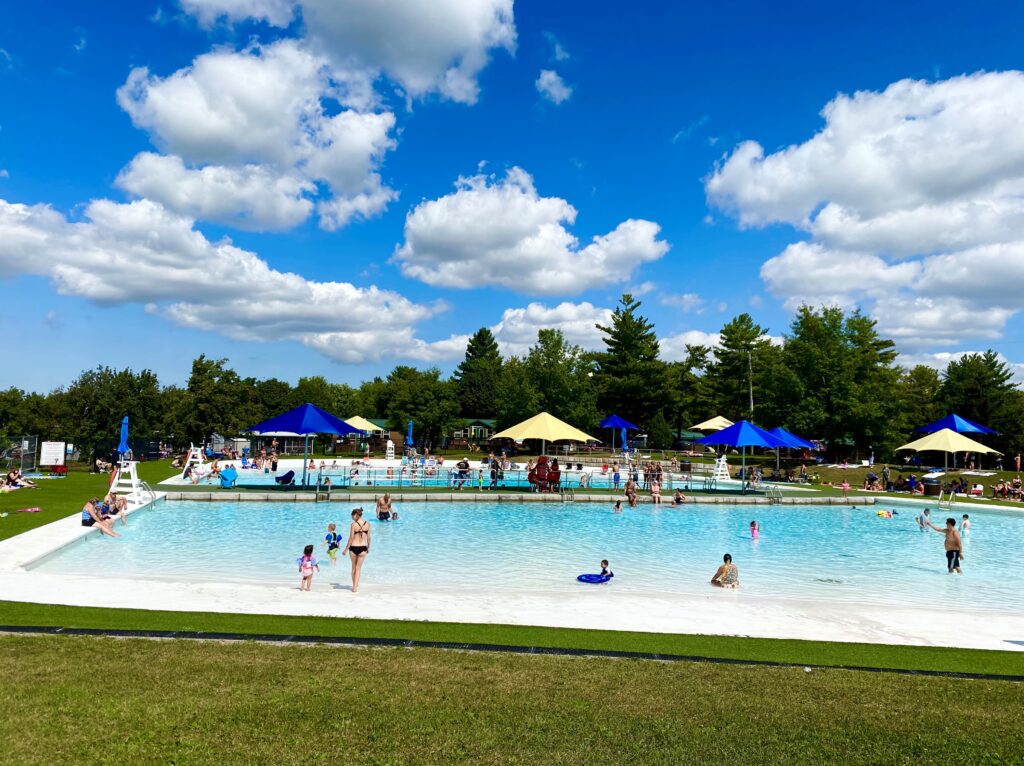 Ready to Relax? Come and enjoy Bissell's large swimming pool! It is separated by a center boardwalk where you'll find NLS certified lifeguards overlooking your safety at all times. One side of the boardwalk is 4-ft deep – perfect for playing and non-swimmers. The other side has a deeper diving area at 9-ft deep for those who want to enjoy the deeper water.
Large umbrellas are available on a first come, first serve basis. Bring your own lawn chairs, lay back and enjoy the fun!
Children: Splash Pad is located right next to the large pool. It's filled with smaller water slides designed to fulfill your little one's day with water fun.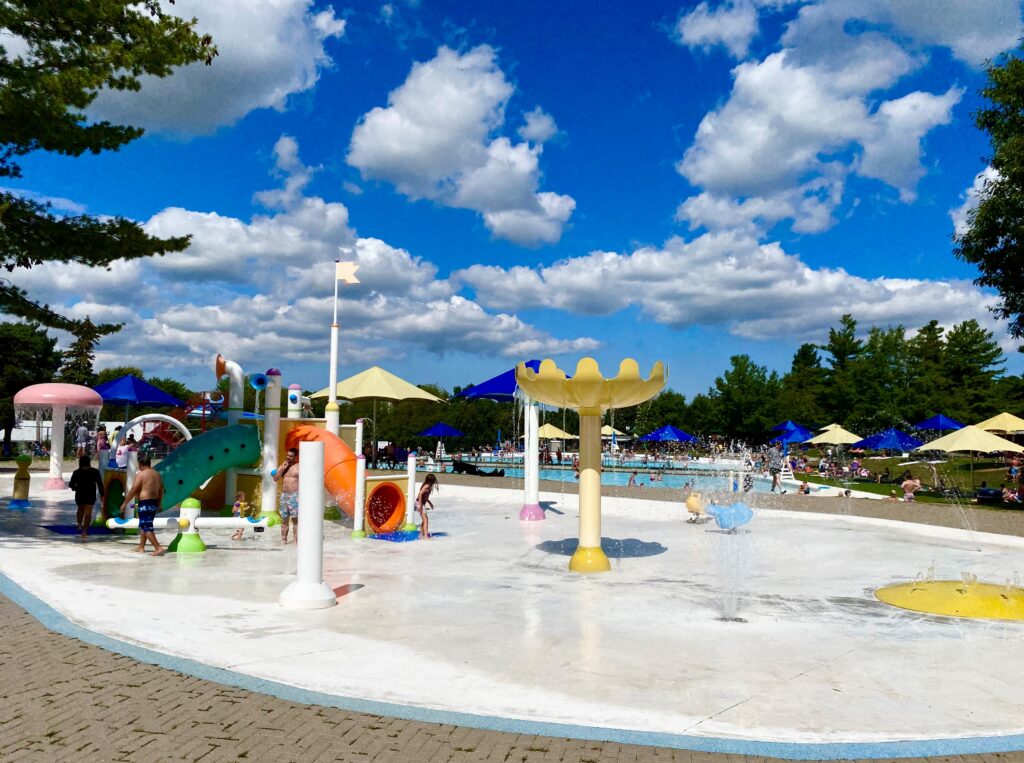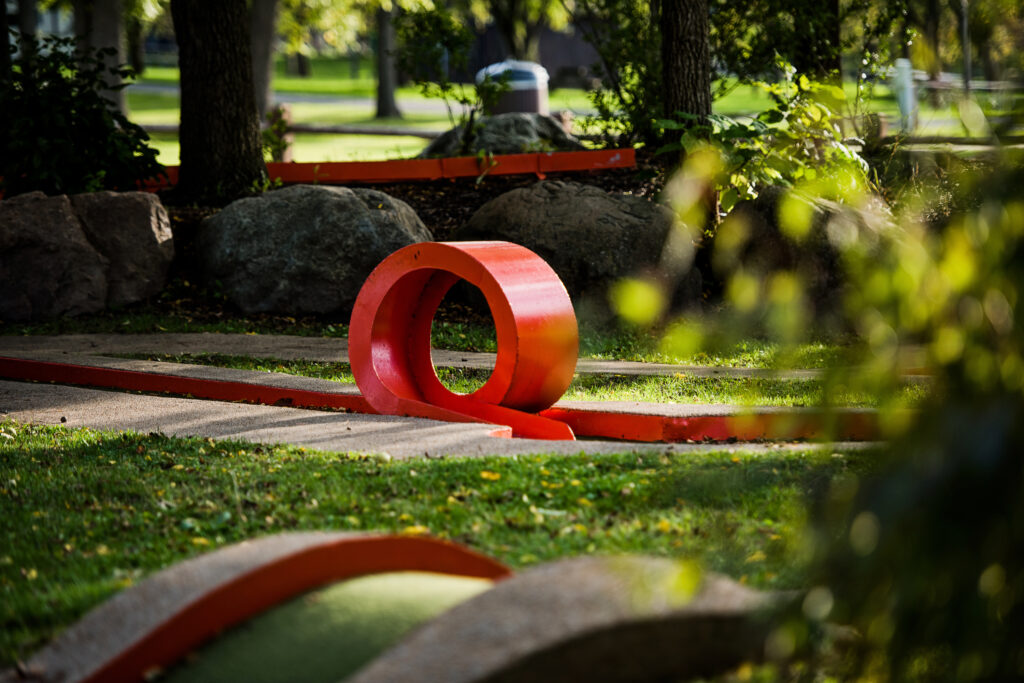 Activities: If you enjoy mini golfing, come out and play the 18-hole mini course with your family and friends.
Courtside: For sports enthusiasts, Bissell's Hideaway has a ball hockey court, basketball court, and volleyball court, as well as areas for bocce ball, horseshoes and all your imaginative play!
Note: You must bring your own equipment to play.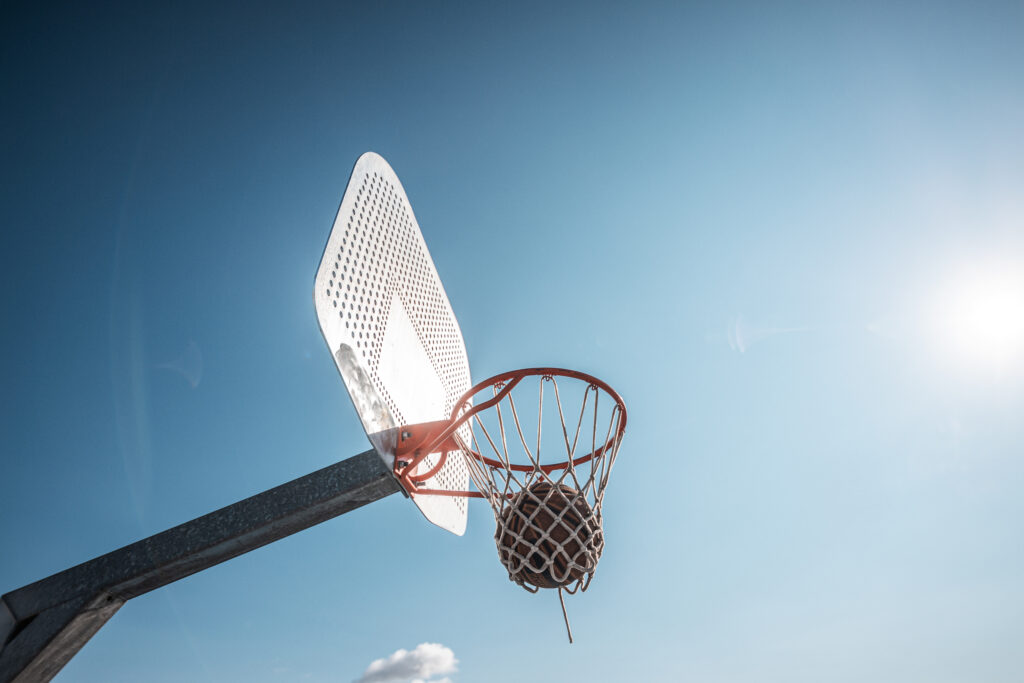 Playgrounds: There are two playgrounds in the park, both located in close proximity to FamFun Cabins. These playgrounds are guaranteed to provide fun and keep your kids of all ages active throughout your entire stay. Open daily from dusk 'til dawn.
Food and Basic Necessities: Bissell's Little Star Snack Bar and Store is available right onsite. Enjoy the great variety of food and snacks any time. And if you forgot to bring some basic camping items, don't worry, you may just find it here too.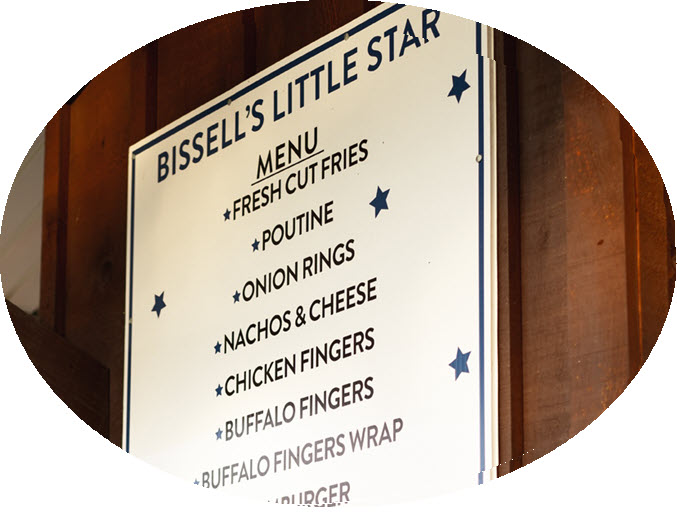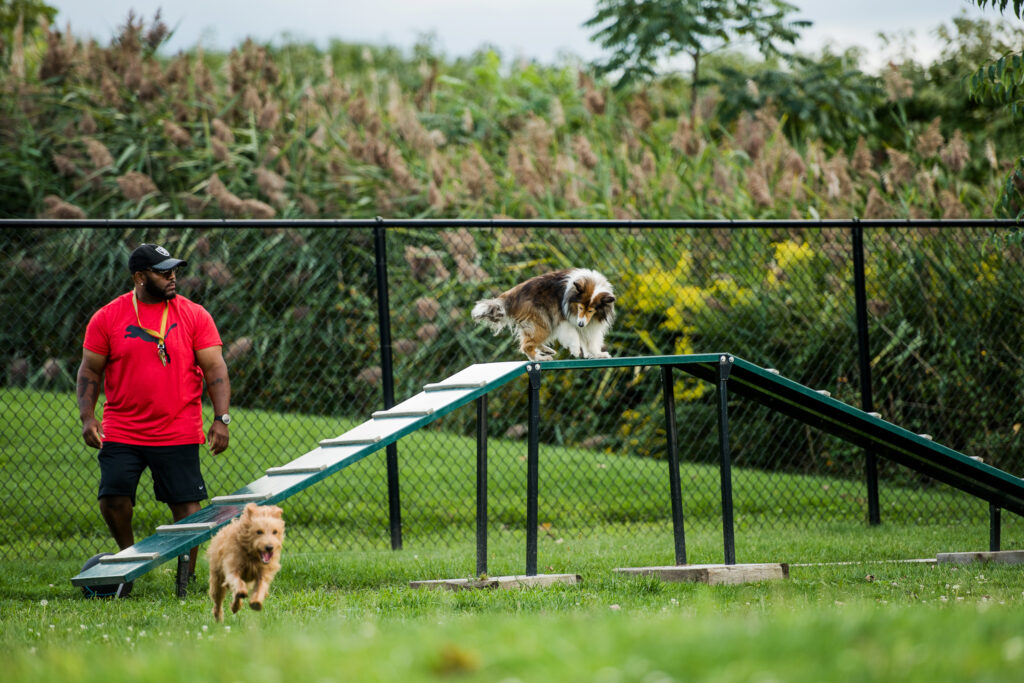 For the Dog Lovers: You don't need to leave your dogs at home, we know they are a part of your family. Let them run around by bringing them to the leash-free dog park right on site.
Surrounding Areas
The resort is immersed among beautiful wineries, go out for a brunch and enjoy a wine tour.  Here are just a few wineries to name…Henry of Pelham Estate Winery, Westcott Vineyards, and Flat Rock Cellars.

Local and Fresh – berries, cherries and peaches.  Get your fresh local fruit of the season on the way or during your stay.  Visit some of these famous farms to taste the summer…Peach Country Farm Market, Cherry Avenue Farms, Bizjak Farms, Tigchelaar Berry Farms, and Cherry Lane, just to name a few.

Golf Courses – all within 15 minute radius of the resort. Choose from Lookout Point Country Club, Peninsula Lakes Golf Club, Sawmill Golf Course, Brock Golf Course, Twenty Valley Golf & Country Club and many more.

Nature is all around. Just a short drive away, enjoy hiking and waterfalls at the Ball's Falls Conservation Area.

A little further, enjoy the beautiful Niagara Falls and Niagara-on-the-Lake.

Outlet Collection at Niagara is just minutes away filled with great shopping options.